« Urbanism forms one of the most complex and interesting sectors. It requires the ability to listen and the understanding of political and technical issues, as well as economical, social and institutional issues. Making models for urban planning projects allows illustrating these challenges. Architectural or urban planning models promote major developments, ease the understanding of a global project and optimize its assent. This is all the more important since urbanism is long-term oriented… »Gaëtan de Magneval.
The model, educational and evolutionary tool
The model is the educational tool par excellence to understand your urban planning policy. Exposed to the general public, it makes it possible to valorize change by relying on a concrete representation.
Up-to-date, a town planning model can live and evolve over several years in coherence with the different phases of your major projects. Well brought, a model can reassure elected officials and decision-makers before validating a project impacting a neighborhood or even a complete city.
Auchan shopping center of Sarcelles at 1-200, insertion of the building in its environment. The interest of this model was to represent before construction, in situ rendering of the double skin. The faithful reproduction of the rendering of the materials of the model was an essential element of the project. We made it in cutting and engraving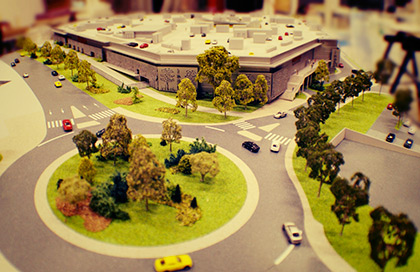 Industrial architectural model,
prototype and real estate development model.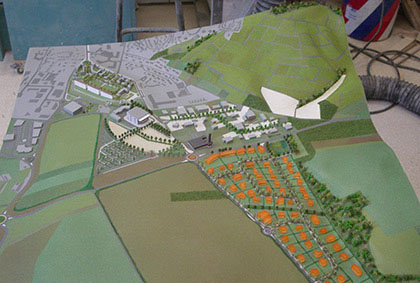 Model of the industrial area of Epernay, scale 1/2000° Evolution of the industrial area and physical identification of the available lands for rent or for sale.
Industrial model,
mixed-used development Lille
Schematic model of the operation area of EPA Plaine de France.  The purpose of this model is to perceive monuments of cities and territories.
Pream, branch of Ramery Group
Setting of Wambrechies' program, scale 1/160°
Bring the urban project to life
Model of Hauts Champs' district, scale 1/500°. This model's purpose is to reassure the inhabitants on the future of the district. This kind of model is usually displayed in City hall's entrance halls or city hall's district branches.
VALENCIENNE METROPOLE evolutive model, Hermitage district, scale 1/250°. Evolution of the district over time by the setting up of colors allowing investors to very quickly spot available lots.
Evolutive model of Vieux Condé ANRU « Agence nationale renouvellement urbain », scale 1/250°.

Hauts Champs district in Roubaix
Hermitage district in Valencienne
Rehabilitation model in Vieux Condé